Since its establishment, ILEC has had a very close relationship with the United Nations Environment Programme (UNEP). We conduct various activities related to the promotion of research and exchange of international knowledge on the sound management of the lake environment and development, including surveys on the current status of lakes around the world, research seminars on lake environment management, overseas technical assistance projects, and support and cooperation for the World Lake Conference. We also have been promoting cooperation with international organizations, such as the Transboundary Water Area Assessment Program (TWAP) and the Lake Basin Management Initiative (LBMI) in collaboration with the Global Environment Facility (GEF).
MOU with UNEP (United Nations Environment Programme)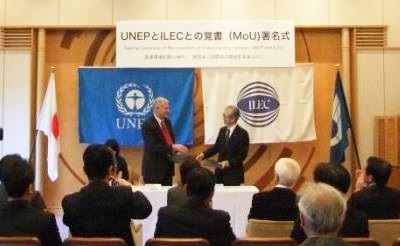 ILEC concluded a Memorandum of Understanding (MOU) with United Nations Environment Programme (UNEP) on April 13, 2011. The MOU was signed by the Director-General of ILEC and Director of Division of Early Warning and Assessment, UNEP (UNEP-DEWA). The two parties agreed to cooperate with promoting the Integrated Lake Basin Management (ILBM) based on this MOU. The signing ceremony took place at Shiga Prefecture Guest House, Japan.
In August 2016, we updated MOU to support the achievement of Sustainable Development Goals(SDGs).
In December 2021, we updated MOU again to jointly develop the initiatives of UNEP and ILEC, including the Mainstreaming of Lakes into the Global Water Agenda and the World Water Quality Alliance (WWQA).