On October 13th, eight Biwa Kids Ambassadors departed for Ibaraki, and participated in the field excursion which took place for students who would make presentations in the Student Conference at the 17th World Lake Conference (Lake Kasumigaura, Ibaraki, Japan 2018).
They boarded a jet wheel from Tsuchiura Port, and watched traditional fishing by sailing ship called "Hobikisen-ryo" in Lake Kasumigaura.
After that, they moved to the Tsukuba International Conference Center, and enjoyed a quiz tournament with other students from all over Japan.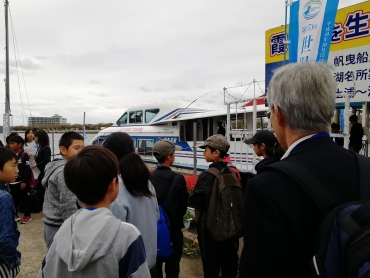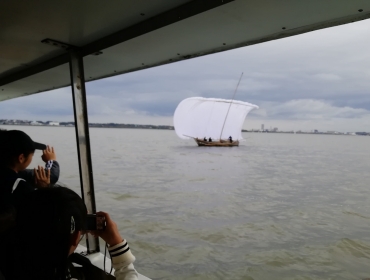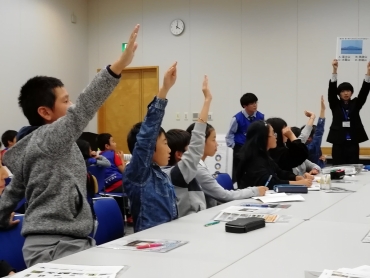 ---
On October 14th, the ambassadors attended the Student Conference.
They participated in two sessions, "Oral" and "Discussion", and managed to carry out the important role of conveying Shiga Prefecture or Lake Biwa's charms, problems, and solutions to the audiences as a representative group of Shiga Prefecture.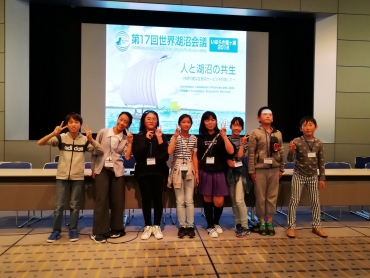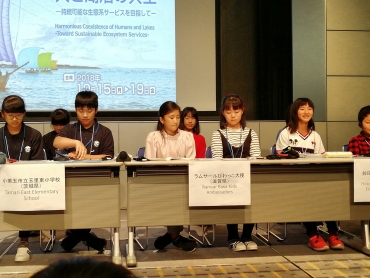 ---
On October 15th, the ambassadors attended the opening ceremony of the WLC17.
On the same day, they met Mr. Taizo Mikazuki, the Governor of Shiga Prefecture, Mr. Ryuji Kawashima, the chairman of Shiga Prefectural Assembly and Ms. Chiyo Komai, a member of Shiga Prefectural Assembly, and talked about their impressions of the conference or future visions.
This experience should give them a great encouragement to continue environmental learning.