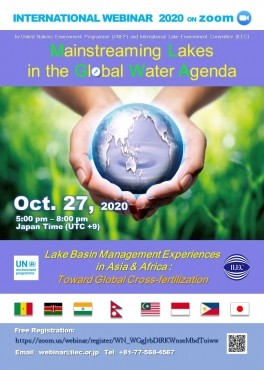 An International Webinar by UNEP and ILEC entitled, "Mainstreaming Lakes in the Global Water Agenda" will be organized on Tuesday, October 27th, 2020, 5:00 pm – 8:00 pm Japan Time (UTC +9).
ILEC, with the support of UNEP, has prepared a draft Statement entitled, "The Need to Mainstream Lakes and Other Lentic Waters within the Global Water Agenda".  As a follow up, this forthcoming International Webinar addresses this subject, with participation by selected countries in Asia and Africa, providing an overview of their lake basin management national policies and programs as well as the experience and lessons learned so far in their implementation. The presentations will also include their adoption of the Integrated Lake Basin Management (ILBM) framework within their national water resources and river basin management plans as represented by such frameworks as Integrated Water Resources Management (IWRM) and Integrated River Basin Management (IRBM). 
Some of the ILEC Scientific Committee members will take part in this webinar as speakers. We will be waiting for your participation.
Date and Time: October 27, 2020 5:00 pm – 8:00 pm Japan Time (UTC +9)
Resister Now for Free: https://zoom.us/webinar/register/WN_WGgJrbDlRKWnseMbdToiww
Contact:webinar(at)ilec.or.jp  *Please replace "(at)" with "@".