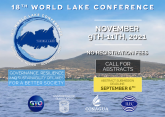 We are pleased to announce that the registration fee of WLC18 has become free of charge! This offer covers all participants regardless of the participation type.
We are looking forward to many people taking this opportunity to join this event. (It is not necessary to register again via the new registration form on the website once you have done the registration before via the former form.)
For more details, please visit the Conference Website: www.worldlakeconference.ugto.mx/en/ or ILEC website: https://www.ilec.or.jp/en/.