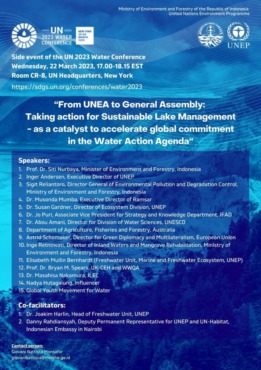 The UN 2023 Water Conference will be held at the United Nations Headquarters in New York from March 22 to 24, 2023, for the first time in 46 years since the 1977 UN Water Conference. We are pleased to announce that Dr. Masahisa Nakamura, Vice President of the ILEC, will speak at a side event organized by the Government of Indonesia and the United Nations Environment Programme (UNEP) on the theme of "Sustainable Lake Management" at United Nations Headquarters in New York.
This event is one of the 200 side events selected from over 1,200 applications.
We will keep you updated on the conference and the side event through SNS, so please look forward to it! For more information about the conference, click here.
Theme: From UNEA to General Assembly: Taking Action for Sustainable Lake Management as a catalyst to accelerate global commitment in the Water Action Agenda
Date : March 22, 2023 5:00 pm-6:15 pm (local time)
Venue: Side Event Room 8, United Nations Headquarters Building (New York, USA)
Viewing information: Available on the UN Webcast at http://webtv.un.org.