At the 19th World Lake Conference, there will be a specialized session where two students from Seian University of Art and Design, who won the Grand Prize at the Lake Ecotourism Contest held during the International Symposium in autumn 2022, will be presenting.
Additionally, a Youth session will be organized and operated with the participation of four students from Kyoto University of Foreign Studies and Ritsumeikan University, who have received the excellent award. These two universities will take the lead in collaboration with international high school and university students. On June 27, 2023, a project kickoff meeting for this session was held online, involving students from Kenya and Uganda. Under the cooperation of Ms. Stephanie Smith from ZephyrMangata, who served as an advisor at the Shiga Lake Biwa Session of the 18th World Lakes Conference, the participants exchanged opinions on the session content and what they would like to achieve. In the near future, there are plans to hold planning meetings for the Youth Session with students from Hungary.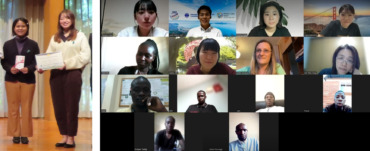 *WLC19 Youth Session will utilize the Expo'70 Fund, the Kansai Osaka 21st Century Association.