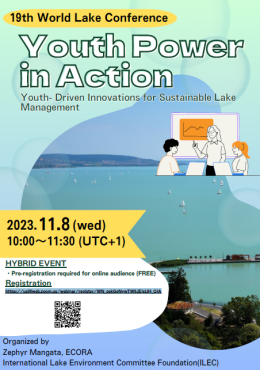 We are pleased to announce and invite you to the Youth Session scheduled for November 8, 2023, during the 19th World Lakes Conference (WLC19).
This session is organized and operated primarily by four students from Kyoto University of Foreign Studies and Ritsumeikan University, who received the excellent award at the Lake Ecotourism Contest held during the International Symposium 2022. Alongside students from Hungary, the United States with its Great Lakes, and Kenya and Uganda, which border Africa's largest lake, Lake Victoria, they will explore sustainable approaches to youth engagement in lake conservation. Through discussions, they broaden the network of youth involvement in lake and environmental conservation and disseminate recommendations from the youth.
We look forward to your participation in this passionate discussion among young people from around the world, as it has the potential to bring about a transformation in lake environmental conservation.
<Details>
Title: Youth Power in Action: Youth-driven Innovations for Sustainable Lake Management
Date and Time: November 8, 2023, at 10:00 AM – 11:30 AM (Hungary Time UTC+1) 
Venue: Balatonfüred Kongresszusi Központ (Balatonfüred Congress Center), Online (Zoom)
Language: English only
Participation Fee: Free
Agenda: Please refer to the attached flyer.
Registration Deadline: November 8, 2023