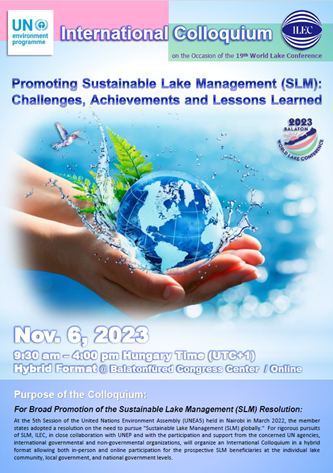 The International Lake Environment Committee (ILEC), in collaboration with the United Nations Environment Programme (UNEP), will host an International Colloquium in a hybrid format allowing both in-person and online participation on November 6th, 2023, during the 19th World Lake Conference (WLC19).
This Colloquium will focus on the "Sustainable Lake Management (SLM)" resolution adopted during the 5th United Nations Environment Assembly (UNEA5.2). It will provide a platform for governments and international organizations to share their initiatives and experiences related to SLM at the national, regional, and lake basin levels. Additionally, discussions will revolve around the significance of SLM in achieving water-related SDGs and the role of Integrated Lake Basin Management (ILBM) as a tool to promote SLM.
We look forward to your participation!
<Highlight>
Title: Promoting Sustainable Lake Management (SLM): Challenges, Achievements, and Lessons Learned
Date and Time: November 6th, 2023 (Monday)
       Hungary Time (UTC+1): 9:30 AM to 4:00 PM
Venue: Balatonfüred Kongresszusi Központ (Balatonfüred Congress Center), Online
Language: English Only
Registration Fee: Free
Organizers: International Lake Environment Committee Foundation (ILEC) and United Nations Environment Programme (UNEP)
Content: Please refer to the attached Programme for details.
Registration Method: Web
      In-Person: https://forms.gle/72DbpN65EMNb2yLo8
      Online: https://tinyurl.com/mr43cw4v
Registration Deadline: In-Person – October 15th (Sunday), Online – November 6th (Monday)
Phone: +81-77-568-4567
Email:infoilec@ilec.or.jp