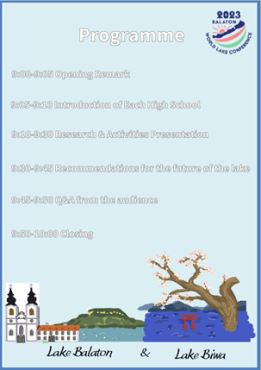 We are pleased to announce and invite you to the High School Student Session scheduled for November 9, 2023, during the 19th World Lakes Conference (WLC19).
In preparation for the 19th World Lake Conference, four exchange meetings were held between high schools in Hungary and Japan, where students learned about Lake Balaton and Lake Biwa, and students discussed the future vision of the lakes and what they can do to conserve them. In this session, each of them will present the outline of the research they are conducting based on the exchange meetings, as well as recommendations from the high school students for the future of the lake.
<Details>
Title: Research Presentations and Recommendations by High School Students for the Future of Lakes
Date and Time: November 9, 2023, 9:00 AM – 10:00 AM (Hungary Time UTC+1)
Venue: Balatonfüred Kongresszusi Központ (Balatonfüred Congress Center), Online (Zoom)
Language: English only
Participation Fee: Free
Agenda: Please refer to the attached flyer.
Register: On Web
Registration Deadline: November 9, 2023